Current Climate Initiatives
Breaking/current? climate and environmental law petitions and letters
Be sure to copy and paste this text into any letter to use your power:
"I'm a climate voter guided by your Climate Action Score (based on your parliamentary voting record) on VoteEarthNow.com."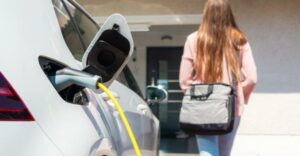 August 5, 2022
Make cleaner, cheaper to run EVs affordable and accessible for everyone.
We're calling on you to support the following policies to help get more Australians in the driver's seat of an electric vehicle:
Implementing strong, mandatory Fuel Efficiency Standards to bring Australia up to speed with the rest of the world.
Setting a target for 100% of new car sales to be electric by 2030.
Provide additional funding for upfront EV incentives and charging infrastructure.
Families taking action for a safe climate

August 5, 2022
Join the growing movement of parents and carers working together to secure a safe climate for our kids.
There has never been a more important time for parents, carers, grandparents and families to become active citizens. Our kids need us to be their climate champions.
We're on a mission to increase the political and corporate will for climate action by engaging and empowering millions of parents and carers across Australia to advocate for climate action in their communities, in the media, and to politicians and businesses.
Ban fossil fuel ads (local council)
August 4, 2022
"As a local resident, I am writing to ask that you stop the promotion of high emissions products and companies on council-managed land.Please support the Fossil Ad Ban campaign in Australia and introduce this Notice of Motion".
(email your lord mayor this message of how to ban fossil-fuel ads)
Tell your MP you want a Hunter Valley Jobs authority
August 3, 2022
Polling shows that Hunter people want the government to take responsibility, to engage local knowledge and make plans to look after our workers, communities and economy.
[  Email your state MP. ]
Get behind rejecting Clive Palmer's Central
August 3, 2022
Queensland coal project.
[make a submission]
May 26, 2022
The cost of everything is going up, now power prices too.
Coal power stations are breaking down and the price of coal and gas is soaring.
We need to switch to cheap, clean renewables that drive prices down.
Click to tweet: https://ctt.ac/c478u